The Good Shepherd
---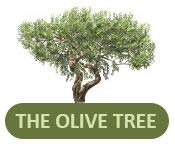 Vol. I / Issue 1 / April 2016
(Psalm 51:10)
But I as a fruitful olive tree in the house of God, have hoped in the mercy of God for ever, yea for ever and ever.
The Good Shepherd
The second Sunday after Easter is "Good Shepherd Sunday," from the particular Gospel reading appointed for that day in the Holy Sacrifice of the Mass.
The image of our Lord as the Shepherd is so familiar and well known that we might often give it only a passing thought. But isn't our Lord speaking directly to us with this image today? Let's take a quick look at the Gospel from Good Shepherd Sunday:
I am the good shepherd. The good shepherd giveth his life for his sheep. But the hireling, and he that is not the shepherd, whose own the sheep are not, seeth the wolf coming, and leaveth the sheep, and flieth: and the wolf catcheth, and scattereth the sheep: And the hireling flieth, because he is a hireling: and he hath no care for the sheep. I am the good shepherd; and I know mine, and mine know me. As the Father knoweth me, and I know the Father: and I lay down my life for my sheep. And other sheep I have, that are not of this fold: them also I must bring, and they shall hear my voice, and there shall be one fold and one shepherd.
Gospel according to Saint John 10:11-16.
Again, isn't this a familiar image?
Our Lord as the Shepherd? Our Lord truly is the Good Shepherd. It is our Lord who gives his life for his sheep. He knows his sheep and his sheep know Him, even as the Father knows the Son and the Son the Father. Our Lord likewise describes the hireling, the one who has no care for the sheep.
But let's take a special look at the final lines of the Gospel reading:
"And other sheep I have that are not of this fold: them also I must bring, and they shall hear My voice, and there shall be one fold and one shepherd."
Of course, the great significance of the other sheep coming to the fold is seen in the one Church into which are called both Jew and Gentile. This significance extends to our day, and will continue to the end of time. It also speaks to each and every person reading this, and to each and every person alive on the earth, for there is not one who is not called unto the flock of our Lord Jesus Christ; there is not one whom our Lord does not know, and for which He does not care. No, each and every human being is called by our Lord.
Have you alienated yourself from the love of God by sin? The Good Shepherd still calls to you.
Do you sorrow? The Shepherd calls.
Do you doubt? The Good Shepherd seeks you.
Even should you find yourself outside the fold of the Church, the Good Shepherd in his ineffable solicitude seeks you. As long as life remains within us, the voice of the Good Shepherd calls to us.
Our response, in whatever situation we find ourselves, is - first and foremost
to open our ears so that we might hear the voice of the Good Shepherd. We must allow our hearts to hearken to the words of the Word himself, and to be brought by our Lord himself into the one fold. Let us listen, each and every one of us.
Father J.H.

The Pope speaks
How Do We Recognize God's Will?
Some think that God really doesn't speak to people much. They cite the exceptions, such as the burning bush God spoke to Moses through or the visions a few of the great saints had. However, God is speaking to us all of the time, but we do not hear Him.
"But he said: Yea rather, blessed are they who hear the word of God, and keep it." (Luke 11:28)
Let us go to Saint John Eudes for guidance in finding out God's will:
by His Commandments;
by His Counsels;
by the laws, rules and the obligations of your state of life;
by the authority of those placed over you or directing you;
by events, since every happening is an infallible sign that God so wills, either by absolute or by permissive will.
Let us look at each of these more closely.
"If you love me, keep my commandments." (John 11:14)
God has given us the Ten Commandments to guide us in our relationship with God; our relationship with our neighbor and our relationship with our own self. And we study these in more detail in the catechism, which should be our constant companion.
There are certain counsels given in the Gospels beyond the Commandments.
"Jesus saith to him: If thou wilt be perfect, go sell what thou hast, and give to the poor, and thou shalt have treasure in heaven: and come follow me." (Matthew 19:21)
Now this is not binding on all, but on those who desire perfection. And yet God counsels us. He asks us to make sacrifices which are above and beyond the normal requirements of being a Christian. We may be inspired to go beyond Friday abstinence to actually fasting on Fridays. We may be inspired to make an extra Holy Hour. Let us listen for the voice of God, because He is speaking.
When we take on the obligations of a state of life, we are binding our self before God to faithfully discharge those duties. Thus these duties become God's will for us. And so we must faithfully discharge our duties.
We often forget our duty of obedience. While we are looking for burning bushes, we ignore the fact that God speaks directly to us in simpler ways. When God places someone in authority over us, He also speaks to us through their voice. The Natural Law of God places parents in authority over their children. The Divine Law places the hierarchy of the Church over all Christians. The same Divine Law places the civil authority over all citizens. Do we stop and think that a stop sign is God speaking to us, and yet it is that simple.
"Because it is like the sin of witchcraft, to rebel: and like the crime of idolatry, to refuse to obey." (I Kings 15:23)
Obedience is a serious matter, but one we take far too lightly.
And yet, obedience makes our life so simple, because we see God's will clearly through the superior He has placed over us. And we must remember that all authority comes from God.
And finally we come to the last method God uses to speak to us. And He is speaking to you right now through this method. God speaks to us through the events that He sends into our lives. And one way is through the reading material He sends us. Yes, God sent that book you picked up last week for your spiritual reading. He wants you to take these things to heart. And yes, God sent you this article to read, so that you could better recognize His holy will.
How can I hear God's voice, when He does not seem to be clearly speaking to me?
"For thus saith the Lord God the Holy One of Israel: If you return and be quiet, you shall be saved: in silence and in hope shall your strength be." (Isaias 30:15)
We need to retire in silence and away from the noise of the world, which will teach us the will of Antichrist and not the will of God. God wishes us to retire often in silence, so that we can close our ears to the voice of the world and open our ears to His voice.
"And be not conformed to this world; but be reformed in the newness of your mind, that you may prove what is the good, and the acceptable, and the perfect will of God." (Romans 12:2)
Yes, there is another voice trying to speak to us and distract us from doing God's will or even listening for His voice. And it is this voice we must stay completely away from, for this voice will speak soothing words to us. But these words make empty promises. The voice of The Enemy will promise us happiness, while preparing us for eternal misery. And often the happiness The Enemy promises us is actually unfulfilling, so that we are preparing for eternal misery while being miserable here. If you want true happiness, simply sincerely say the prayer: "Thy will be done." Our happiness depends on our conformity to God's will. If we do not conform to God's will, our life will be an error.
Fiat voluntas Tua,
Pope Michael
Honesty in the Confessional
"For behold thou hast loved truth:" (Psalms 50:8)
I cannot begin this without stopping at one of the very first words, "Behold." It reveals that what is about to be said is something of great importance and seriousness that David wanted God to see. David was exclaiming for God to see that David knew God wanted the truth from him, not just surface truth but truth from the depths of his soul. David had been caught up by the deceitfulness of his own heart, so he wanted to make certain God knew he understood how important truth was. There is such a crucial truth here. David deceived himself and he deceived others because he was deceitful with God.
One of the most important things a sinner must do to stay right with God is to come clean with God about everything.
Tell God the truth about what is inside your mind and heart. He wants to know all of it no matter how difficult it is to tell Him about it.
Stop lying or trying to cover your sin from God.
It will only lead to destruction. When you think that dirty thought tell God the truth about it. He wants to know every secret thing. When you are tempted to do or even commit that horrible act, do not try to hide any of it from God. Staying right with God requires total honesty with God. It is that honesty that leads to our victory. When that appetite begins to return, confess it quickly so that He can get it out of you. God wants us clean in the depths of our hearts.
Purity is not what we think we are. Purity is not what others think we are. Purity is what God knows we are.
It is based upon what God can see in the deepest places of our hearts. Here is the problem. When we do not confess what God knows then we are running off a different playbook. We cannot win that way. Now here is the key. Truth is more than the absence of lies or deceit. It is the presence of God's will and Word within us. David was not merely saying that God does not want us to hide lies in the inward parts. He was saying God wanted HIS truth to permeate us.
To be right with God we must do more than just remove the inner lies. We must fill ourselves with God's truth.
Truth and lies cannot abide together. Far too many people are in the mode of removal than replacement. Once we have confessed our sins, we must then begin the process of replacing it with the truth within. Are you replacing the negative with the positive? Are you hiding God's Word and truth deep within your heart?
God wants us to learn what He desires and to do it because we choose to do so. David wanted not just to do what he thought was expected of him by God; he wanted to do what would satisfy the desires of God. God's desire is that we have truth in the deepest part of our being.
Today: What are you "hiding" from God?
Are there things that you have not told Him that He wants or needs to know? Take a few minutes today to inventory your heart and see if there are any inward places where you have things you have not shared with Him. Then take the truth of His Word and apply it to those things. Maybe its bitterness, hurt, discouragement, depression, fears, disappointments, or insecurities. All of these can lead to other sins.
Challenge:
During the week even before going into the confessional, begin to make it a habit to tell God everything. If you lust, tell God. If you doubt, tell Him. If you get mad, tell Him. Hold nothing back from Him. David's greatest characteristic was his transparency with God. May we be as transparent as David with our God.
Frater FD