Ascension Day
---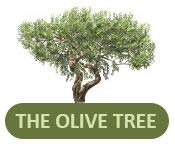 Vol. I / Issue 2 / May 2016
(Psalm 51:10)
But I as a fruitful olive tree in the house of God, have hoped in the mercy of God for ever, yea for ever and ever.
Ascension Day
We have just recently celebrated the great feast of our Lord's Ascension.
Did you notice during the readings of the sacred scripture during the Holy Sacrifice of the Mass that both the Lesson and the Gospel gave us an historic look at the event of the Ascension itself? It is a wonderful and unique occurrence that during the celebration of an event in the earthly life of our Lord that the voice of the Church puts forth both a Lesson and a Gospel which describe that event! The Christian soul cannot help but be moved on such an august feast, and most especially during the sacred Liturgy of the day.
Has it already been forty days since the day of the joyous Resurrection of our Lord?
How quickly the days pass! After the forty days of Lent, days which may seem to be drawn out and lengthened in their penitential spirit, now we have passed an equal number of days of Paschal-tide. How lightened and joyful the spirit of these days!
But with the coming of the feast of the Ascension, we are given to understand that though our joy abounds (and rightfully so!), the great commission of our Lord now obtains. We hear this in the Gospel reading: "Go ye into the whole world, and preach the gospel to every creature."
Our Holy Mother the Church, as a good mother indeed, has prepared her children through the penitential season of Lent to receive the good news - the Gospel - that our Blessed Lord lives! And living, He commissions his disciples to carry that same good news unto the whole world.
Our Lord does not leave us orphans, however. For what He has given is not simply a mission, but a commission, a "sending-with."
For wheresoever they go with the good news of the living Savior, the Lord Himself goes with them, and working with and through them. For we hear the words of the Gospel regarding the acts of the Apostles after the Ascension of the Lord, "But they going forth preached every where: the Lord working withal, and confirming the word with signs that followed."
The disciples went forth and preached, and the Lord worked through the preaching and through his power.
Indeed, from those days until our present day, the great commission of our Lord remains in effect. Until our day, the successors of the Apostles remain (and will remain until the end of time) to preach the good news unto the whole earth, and our Lord Himself works withal, confirming the word with the signs that follow.
And this remains to us our own call: the reception of the good news of the living God, as we hear in the Lesson from the feast. There the commission of the Lord to his disciples is plainly described by the Lord Himself: "But you shall receive the power of the Holy Ghost coming upon you, and you shall be witnesses unto me in Jerusalem, and in all Judea, and Samaria, and even to the uttermost part of the earth."
Note that the commission is given to preach, and to preach as witnesses. It is one thing to speak of a simple idea, or to pronounce speculation. It is very much another thing - and a much more powerful thing - to speak of those facts and truths which we have witnessed first hand.
Our Lord warns against this first sort of inquiry when, just before the promise of the power of the Holy Ghost, we see this exchange with his disciples:
"They therefore who were come together, asked him, saying: Lord, wilt thou at this time restore again the kingdom to Israel? But he said to them: It is not for you to know the times or moments, which the Father hath put in his own power."
The disciples' minds were on things of this earth and of things not revealed. Yet standing right before them and speaking to them was the Son of God Himself.

How often do we raise our own minds to try to divine future possibilities when the immeasurable treasure of divine grace sits before us unrecognized?
How often do we find ourselves like the disciples staring up toward heaven, but losing the remembrance of the great riches of what we have witnessed through the preaching of the gospel? How quickly we forget the signs we have witnessed - especially those signs within our own souls, our own minds, and our own hearts - which our Lord has worked in testimony and as confirmation of his continuing presence among those whom He has sent.
Let us resolve now ever to be mindful of what we have witnessed. Let us come forward to witness more! Let us hear the voice of the Church, the immaculate bride of Christ, who through her members continues until the end of time to carry out that great commission given by her divine Spouse! And let us rejoice, for Christ is ascended from earth to heaven! Christ is ascended to the right hand of the Father! Christ is ascended; glorify Him now and forever!
How Do We Recognize God's Will?
Some think that God really doesn't speak to people much. They cite the exceptions, such as the burning bush God spoke to Moses through or the visions a few of the great saints had. However, God is speaking to us all of the time, but we do not hear Him.
"But he said: Yea rather, blessed are they who hear the word of God, and keep it." (Luke 11:28)
Let us go to Saint John Eudes for guidance in finding out God's will:
by His Commandments;

by His Counsels;

by the laws, rules and the obligations of your state of life;

by the authority of those placed over you or directing you;

by events, since every happening is an infallible sign that God so wills, either by absolute or by permissive will.
Let us look at each of these more closely.
"If you love me, keep my commandments." (John 11:14)
God has given us the Ten Commandments to guide us in our relationship with God; our relationship with our neighbor and our relationship with our own self. And we study these in more detail in the catechism, which should be our constant companion.
There are certain counsels given in the Gospels beyond the Commandments.
"Jesus saith to him: If thou wilt be perfect, go sell what thou hast, and give to the poor, and thou shalt have treasure in heaven: and come follow me." (Matthew 19:21)
Now this is not binding on all, but on those who desire perfection. And yet God counsels us. He asks us to make sacrifices which are above and beyond the normal requirements of being a Christian. We may be inspired to go beyond Friday abstinence to actually fasting on Fridays. We may be inspired to make an extra Holy Hour. Let us listen for the voice of God, because He is speaking.
When we take on the obligations of a state of life, we are binding our self before God to faithfully discharge those duties. Thus these duties become God's will for us. And so we must faithfully discharge our duties.
We often forget our duty of obedience. While we are looking for burning bushes, we ignore the fact that God speaks directly to us in simpler ways. When God places someone in authority over us, He also speaks to us through their voice. The Natural Law of God places parents in authority over their children. The Divine Law places the hierarchy of the Church over all Christians. The same Divine Law places the civil authority over all citizens. Do we stop and think that a stop sign is God speaking to us, and yet it is that simple.
"Because it is like the sin of witchcraft, to rebel: and like the crime of idolatry, to refuse to obey."
(I Kings 15:23)
Obedience is a serious matter, but one we take far too lightly.
And yet, obedience makes our life so simple, because we see God's will clearly through the superior He has placed over us. And we must remember that all authority comes from God.
And finally we come to the last method God uses to speak to us. And He is speaking to you right now through this method. God speaks to us through the events that He sends into our lives. And one way is through the reading material He sends us. Yes, God sent that book you picked up last week for your spiritual reading. He wants you to take these things to heart. And yes, God sent you this article to read, so that you could better recognize His holy will.
How can I hear God's voice, when He does not seem to be clearly speaking to me?
"For thus saith the Lord God the Holy One of Israel: If you return and be quiet, you shall be saved: in silence and in hope shall your strength be." (Isaias 30:15)
We need to retire in silence and away from the noise of the world, which will teach us the will of Antichrist and not the will of God. God wishes us to retire often in silence, so that we can close our ears to the voice of the world and open our ears to His voice.
"And be not conformed to this world; but be reformed in the newness of your mind, that you may prove what is the good, and the acceptable, and the perfect will of God." (Romans 12:2)
Yes, there is another voice trying to speak to us and distract us from doing God's will or even listening for His voice. And it is this voice we must stay completely away from, for this voice will speak soothing words to us. But these words make empty promises. The voice of The Enemy will promise us happiness, while preparing us for eternal misery. And often the happiness The Enemy promises us is actually unfulfilling, so that we are preparing for eternal misery while being miserable here.
If you want true happiness, simply sincerely say the prayer: "Thy will be done." Our happiness depends on our conformity to God's will. If we do not conform to God's will, our life will be an error.
Fiat voluntas Tua,
Pope Michael
The Blessing of being Broken
He remained alone: and behold a man wrestled with him till morning. And when he saw that he could not overcome him, he touched the sinew of his thigh, and forthwith it shrank.
And he said to him: Let me go, for it is break of day. He answered: I will not let thee go except thou bless me. And he said: What is thy name? He answered: Jacob. But he said: Thy name shall not be called Jacob, but Israel: for if thou hast been strong against God, how much more shalt thou prevail against men? Jacob asked him, Tell me by what name art thou called? He answered: Why dost thou ask my name? And he blessed him in the same place.
(Genesis 32:24-29)
At the time of our story, Jacob was a fugitive and had been running. He'd been in the school of hard knocks for twenty years. He believed in God, but his relationship with Him was in disorder. However, we see that God did not love Jacob for what he was, but for what He could make out of him.
Alone With God
Now, God finally had Jacob where He wanted him, alone. It took a while because Jacob didn't want to be alone. You know when people are running from God, they don't want to be alone. They don't want to face themselves, and they don't want to face God.
But verse twenty-four tells us that finally Jacob was alone, and he had a confrontation with God.
The commentary in the Douay Rheims Catholic Bible says this:
This (Man) was an angel in human shape, as we learn from Osee (Hosea) 12:4 He is called God, in verses 28 and 30, because he represented the person of the Son of God.
He was face to face with an Angel, and they were in a wrestling match. Now, it wasn't Jacob wrestling with the Angel, it was the Angel wrestling with Jacob. The Angel started it, and it could have been over very quickly, but the Angel wanted Jacob to prevail. He didn't want to overcome him. The angel was trying to do something with this man that God loved so much.
Broken By God
Finally, when they had wrestled all night, the angel touched the hollow of Jacob's thigh and crippled him. Now, when a wrestler's legs are gone, he can't do anything. This is the strongest muscle for a wrestler. Jacob was crippled; his final weapon was gone. If all his plans and strength had failed, at least he could have run; but now, he couldn't even run. God brought him to the place of utter, absolute, complete brokenness and dependence.
Blessed By God
The Angel said to this crippled man, "Let me go." Ironically, the word "Jacob" is associated with the Hebrew word aqeb,"heel", as Jacob was born grasping the heel of his brother Esau. (Genesis 25:26) But this time, for the first time in his life, he got a hold of God. He said, "Oh God, I need You. God, I will not let you go except thou bless me." God had been waiting to hear those words for so long, and at that moment, something wonderful took place.
The angel asked Jacob for his name. God knew it, but He wanted Jacob to confess his name which further meant "liar, cheater, crook, fraud, schemer, and deceiver." Then, God gave him a new name, Israel, which means, "a prince of God." or possibly "one who strove with God" The meaning is uncertain. He became a prince with God because he finally came to the end of himself when he was striving with God. You see, God wanted to bless Jacob, not hurt him.
God crippled him that he might crown him. God broke him that he might bless him.
Do you know why many of us are not yet truly blessed? We have not yet been truly broken. Men throw broken things away, but God never uses anything until he first breaks it. You'll never show me anybody who has been or will be mightily used of God who has not been broken. There is no blessedness without brokenness. Take an inventory of your life today. Quit wrestling and start yielding. Ask God to break you so he can bless you.